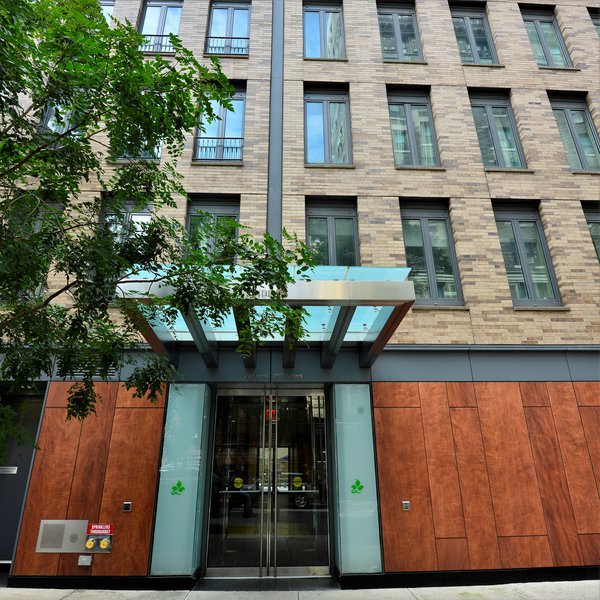 About Linden 78 Condominium
Combining pre-war aesthetics with very modern, new construction luxuries, Linden 78 stands apart as an exceptional condo listing. The condos are a study in elegance and modernity and have become some of the most impressive listings on the Upper West Side. Their prime location at 230 West 28th Street only adds to this reputation. Complete this fantastic mix with an awesome collection of amenities and it is easy to see why Linden 78 is one of the most talked about new construction condo listings on the UWS.
The apartments for sale at Linden 78 offer all the comforts that New Yorkers expect from luxury condos. The kitchens boast Pietro Bianco Luna marble countertops and muted oak Finish cabinetry; the bathrooms shine with Luce di Luna marble counters and Lagos Azul stone floors. All of the condos also have French windows and voluminous entry foyers. The apartments have a wide-open, airy feel to them that recalls the classic pre-war apartment, accented by high ceilings. Contrasting this is the modernity of the stainless steel Miele and Viking appliances in the kitchen, adding that dash of modern comfort.
The pre-war elegance of Linden 78 is complemented by the bountiful amenities. Amenities include a 24 hour attended lobby and concierge service, an on-site resident manager, well-stocked children's playroom and fitness center, and refrigerated storage for grocery deliveries. The landscaped roof deck offers gorgeous views of Central Park and New York City. Linden 78 is located on a tree lined stretch of 78th Street only a short walk away from some of Manhattan's elite restaurants and shopping, lively nightspots, and acclaimed museums. It's also only steps away from the subway allowing easy access to the rest of Manhattan. A new construction combining pre-war elegance with present day luxury, Linden 78 is truly an elite condo listing on the Upper West Side.
Interested in Buying or Renting in Linden 78 Condominium?
Please click on the links below to get more information about the availabilities in Linden 78 Condominium and we will connect you with a buyer's agent.